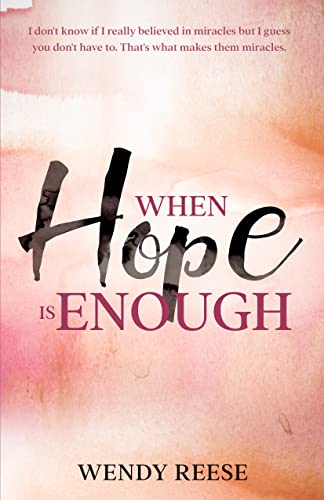 I am not sure that I believed in miracles before all this happened, but I guess you don't have to….That's what makes them miracles.
When Hope is Enough, tells the heartbreaking, tear jerking, happy ending story of Melissa when she is admitted to an Orlando ICU, 38 weeks pregnant, and in serious respiratory distress.
This raw and emotional story is told through the eyes of her mother, Wendy, who watches with heartbreak as doctors place Melissa on a ventilator and then on life support machines when the ventilator is not enough.
With nothing but hope and an army of doctors and nurses, Melissa's mother prays for a miracle. The doctors say that Melissa will not survive, but after six weeks on a life-support machine, she proves them wrong. With the tiniest flutter of her fingers, she proves that miracles exist.
After reading this story, you will hug your children a little tighter, watch them sleeping a little longer, call them a little more often, and be forever grateful for the miracle of motherhood. $2.99 on Kindle.