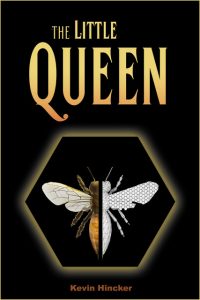 Anthony loses his mother. The Little Queen loses her hive. Their lives and their bond are threatened when dark forces pursue them in this exciting, contemporary fantasy, exploring found family, loss, and redemption.
A mysterious facility, breeding a single line of honeybee queens down ten thousand generations, finally succeeds in its mission: creating hive sentence. But when the Little Queen gains self awareness and realizes she is imprisoned, she executes a daring escape, which nearly kills her. In doing it, she changes the trajectory of a rural Idaho hamlet, and the life of Anthony, the boy who rescues her.
Anthony is a Keeper. From his mother he inherited a secret ability to communicate with bees. But after his mother dies, the hive she passed to him sickens, and Anthony's life begins a downward spiral. When the Little Queen comes to him, pursued by vicious murder hornets almost as powerful as she is, she assumes responsibility for Anthony's mother's hive and resurrects it, but with a powerful difference. A bond grows between the two of them, the motherless boy and the hiveless queen, but is it strong enough to confront the dark forces, wasp and human, which soon begin hunting them both? Free on Kindle.