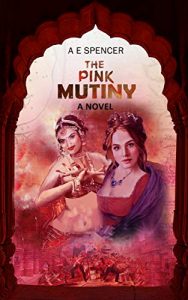 With 4.2 stars in Goodreads, THE PINK MUTINY has ranked in the top 100 of Women's Historical Fiction, Historical European Romance and Historical Thriller for the past two months.
Her man carries terrifying secrets. But if she escapes, will the world treat her with any more kindness?
1857. Forced to flee her abusive husband in the dead of night, Amelia Lawrence is determined never to let him touch her again. But her frantic exodus falters when she stops to help an enigmatic local woman, and ends up alone in a foreign land, reliant on the trust of a stranger. And with the bloody Sepoy Mutiny raging in India, the strongminded Brit is now stuck in a country at war with her own.
But the refugee finds herself emotionally conflicted when she catches the eye of a wealthy businessman.
Will she find refuge in the arms of a new lover before her time runs out; or will her political passions betray her heart's desire?
Free on Kindle.