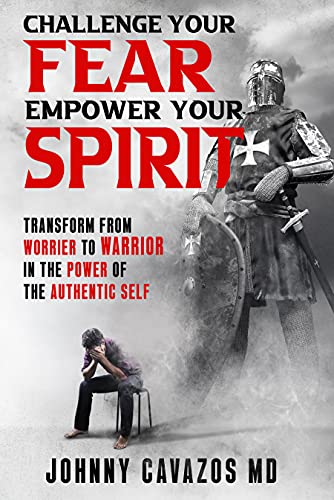 Crush the Fear and Anxiety that holds you down, while developing the Confidence and Boldness that you have always wanted.
We are not only living in the Covid pandemic, we are currently in a pandemic of fear and anxiety. 50 percent of the population is dealing with crippling anxiety and fear every day.
In this book, Dr. Cavazos will help you to confront and challenge the fear that has hindered you. He will be using proven psychological principles and techniques that will free you to pursue your goals and realize your dreams.
This is the third book in the Authentic Self series and in it you will:
1. Learn the basic principles of how your fear and anxiety are generated
2. Examine your own behavior and uncover the habits and practices that are actually growing and expanding your fear
3. Cultivate the habits and behaviors that engender peace, confidence and boldness.
4. Discover the 20 Iron Clad Principles that will move you toward the peace and fulfillment you have always dreamed about.
5. Sharpen the weapons to fight fear that you have always had available to you but were unaware of
6. Develop the leadership qualities and sense of purpose that allow you to confront your fear and be an example of boldness and confidence for your whole family
7. Stand firm, confront your enemy, and win your war
"More than 100 million American adults who describe themselves as Christian contend that despite their commitment to God, They are still searching for clarity regarding their purpose in life. Tens of millions of self-described Christians feel unfulfilled in life, admit they lack direction and are disappointed that their faith has not produced the kind of meaning and identity they need, and question whether their life makes a difference.
"This book will help you to find the guidance and solutions you need to transform you from a worrier to a warrior. Not only will you understand the power of purpose and meaning in this book, you will develop the confidence, competence and courage that are required to realize a stronger, more resilient version of you. The version of you that God had in mind when he created you.
Your Authentic Self
Stop being controlled by an emotion. Live the life of confidence and daring you have always wanted and pick up your copy by clicking the Buy Now button.
Challenge Your Fear, Empower Your Spirit, You Won't Regret It. Free on Kindle.