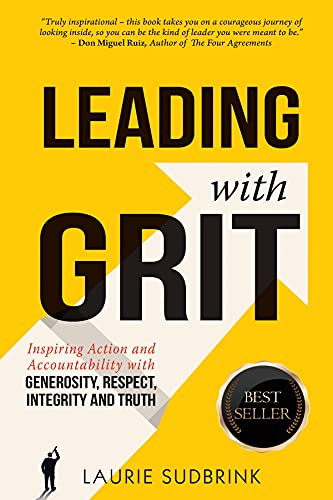 Feeling overwhelmed and overworked? Want to inspire your team to step up? Ready to advance your career without giving up your life?
Leading With GRIT® shows you how to be tenacious and courageous while maintaining all your priorities in an effective and balanced approach.
It's not your typical "grit!"
G-Generosity
R-Respect
I-Integrity
T-Truth
Perseverance and passion help you reach a goal but grit alone often causes collateral damage, like burn-out, failed relationships, health issues, low morale and high staff turn-over.
Leading with GRIT® centers on the why, what and how to make positive, effective and sustainable changes in your life so you authentically and more naturally lead others to do the same.
Read this book to:
· Be more focused, balanced, and accomplished every day
· Advance in your career while staying true to yourself
· Create a highly engaged team
· Inspire more people to be accountable
Tools you'll find helpful:
· Five Steps of Change, Triangle of Intent, and the Accountability Ladder
· GRIT® Self-Assessment with Online Access
· Resource Library Access. $0.99 on Kindle.