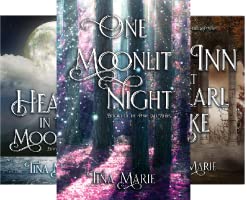 Meet the Petersen women of Pearl Lake, Abbi, Ava, and Kim, and the men that have fallen in love with them.
Taken from book 1:
Abbi's curiosity is piqued…
Years after she fled from an attention-seeking fan. Klutzy divorced author, Abbi Petersen lives a quiet life with her menagerie of pets in a tiny lakeside village and she wants to keep it that way. She of all people should know better than to go peeking through the bushes towards her next-door neighbor. Doing so has its consequences; she falls flat on her face.
Hollywood's leading British actor, Ben Quinn, is hightailing it out of Tinseltown, leaving the glamour, glitz, and paparazzi behind. He buys a house in Pearl Lake on impulse and is quite content to stay oblivious to everyone — until he meets the lady next door. The attractive, quirky, older woman has him smitten; she has no clue who he is.
Despite their age difference, Ben has set his eyes on Abbi. But little does he know that someone else is doing the same thing, or are they watching him?
Intrigue, slow burn, passion, and laugh-out-loud moments, One Moonlit Night the first in the Pearl Lake Series has it all. Enjoy! Free to $4.99 on Kindle.