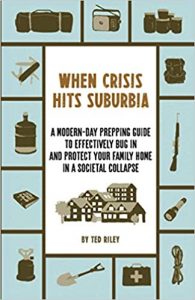 Would your family survive in lockdown if society were to collapse? Learn how to prepare your home now.
We are used to a world in which our homes are supplied with fresh water, gas, and electricity. We're used to having our waste removed and our sanitary needs met.
These are all things we've come to expect, but what would happen if they were taken away?
Flooding, hurricanes, and pandemics are affecting areas we once thought were safe from disaster–we shouldn't take anything for granted.
In When Crisis Hits Suburbia: A Modern-Day Prepping Guide to Effectively Bug In and Protect Your Family Home in a Societal Collapse, you'll learn exactly what you need to know to prepare your home for an emergency. You'll find:
The 6 key priorities of survival and how to make sure you have them covered
A clear guide for knowing when it's time to stay in, and when it's time to evacuate
Top prepper survival secrets so that you always stay one step ahead of the rest
A toolbox of information that allows you to choose what works best for your family
Practical tips for preparing your children for worst-case scenarios without frightening them
How to make sure your water supply is 100% safe at all times
Comprehensive checklists for everything you need to stock in your home
Essential administrative tasks you should have sorted in advance before a disaster strikes
And much more.
The ideal home is not only the home that keeps you and your family safe in good times, but it's the home that keeps you safe no matter what.
Prepare your home for the worst-case scenario and protect your family no matter what. $0.99 on Kindle.