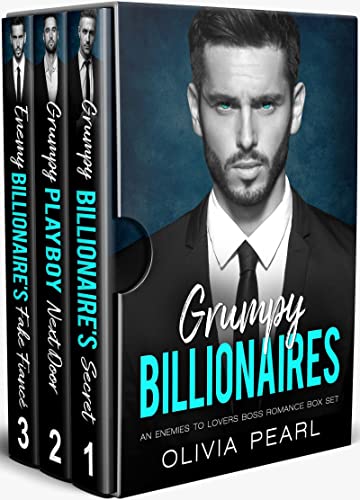 With over 250+ 5-star reviews combined on individual books, lose yourself in this hot and steamy THREE FULL LENGTH NOVEL contemporary romance box set! Turn off your alarm because these bad-boy billionaires will make your heart swoon and keep you turning the pages all night long for their happily ever after. Why just get one when you can get all three? One-click away and these billionaires will be yours!
BOOK 1: Grumpy Billionaire's Secret
A game of truth or dare. No real names. No numbers exchanged. No strings attached. I allowed a complete stranger to take my V-card. He left me with two things that night: His masquerade mask. And his baby in my belly. He recognizes his own blue eyes the first time he sees my son. He knows something isn't right. If I tell him my long-kept secret, I could lose my job. But it's a chance I am willing to take to save our son's life.
BOOK 2: Grumpy Playboy Next Door
Playing truth or dare with your grumpy billionaire boss in a hot tub is never a good idea. I always had a crush on my best friend's brother Luke. He's hot, rich, and bossy. But a relationship is the last thing on my mind. He claims he isn't interested, but his lips on mine tell me otherwise. We cross the line and share a night of forbidden passion. He's damaged and swore he would never be in a serious relationship. So we agree that it could never happen again. With mixed feelings and my job on the line, Can I risk a broken heart for a chance of true love?
BOOK 3: Enemy Billionaire's Fake Fiancé
My one-night stand is now my grumpy boss and I have one task…To be his fake fiancé.Damon Finnegan. An arrogant, cocky billionaire who can't take no for an answer. But god, he is annoyingly hot and I can't stop thinking about that night. I resist his advances until he offers me a deal I can't refuse. He needs me to be his fake fiancé for a price. It's all fun and games until I realize I've fallen for this notorious bad boy, And I'm carrying his baby. $0.99 on Kindle.