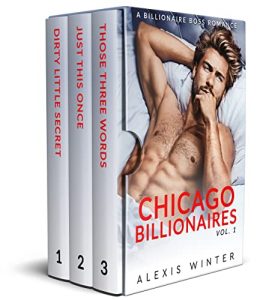 "I'm going to defile you on this desk. I'm going to remind you who you belong to."If you love dominant, filthy-talking billionaires then don't hesitate to dive into these 3 full-length novels. Each book is an age-gap, billionaire office romance that will have you clutching the sheets and begging for more.
Books Included:
Those Three Words
I never thought getting fired from my dream job would change my life. And I certainly never imagined three little words would be my undoing. Trust me—they're not the words you're thinking. Those three delicious, toe-curling words whispered by my boss were where it all changed. When budget cuts at my local school leave me scrambling to find a job before I get evicted, I stumble upon the listing of a lifetime. How hard can being a live-in nanny for a little five-year-old girl be? Especially when it's double the salary and comes with a sexy, single dad. But the moment I step inside Graham Hayes multi-million dollar estate and meet the grumpy billionaire—I know I'm in way over my head. Sometimes life-changing news comes in the form of just three simple words. Sometimes it comes in the form of an unexpected, heart-wrenching secret and the fairytale is shattered. Sometimes, it comes in the form of the opportunity of a fresh new start. You just have to be willing to take the risk and walk away or maybe…there's three little words that can fix it all.
Just This Once
I swore to myself that I'd never cross that line with her. But when Savannah Monroe, my chief operations officer, shows up on my doorstep with a proposition that starts with her in my lap and a promise of just this once…breaking the rules suddenly seems so enticing. At fifteen years my junior and the smartest woman I've ever met, she's by far the greatest asset at Baxley Tech. From the moment I hired her, we had a connection—as friends, as a mentor. A lingering touch.A stolen glance. An unspoken attraction that simmers just beneath the surface, threatening to boil over. We promised each other it would only be just this once. But now that I've had a taste…I want my fill.
Dirty Little Secret
I'm the type of man that gets what I want. Hell, I didn't become a billionaire before forty-five by playing by the rules. But then she waltzed into my life…Wren Adler, my head of PR and the star of every one of my dirty fantasies. She's driven, fiery, and more than ten years younger than me. In other words, she's off f-ing limits. I should have walked away. I shouldn't have tasted her. I shouldn't have let my hands roam. And I sure as hell shouldn't have told her to grab the headboard. Instead, I finally let myself indulge in the ultimate fantasy of pretending she's mine. Now, she thinks that she's my dirty little secret but the truth is, I'm not only lying to her, I'm lying to myself. I have to decide to take a chance on finally getting what I want, or walking away forever.
Each book in this collection is a complete standalone with no cross-over characters, cliff-hangers, or cheating. Be warned, these men are spicy, sizzling, and beyond sexy! Once you start…you won't want to stop. $0.99 on Kindle.