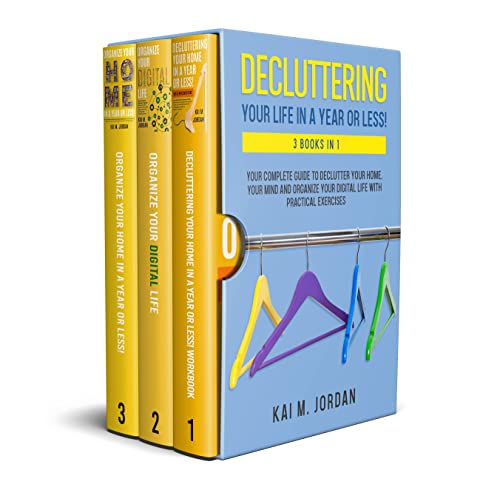 3 Books In 1 – For everyone tired of looking at the mess in their living situation, do you want to regain back control over your Home, mind, digital life and social media? So you can have a more focused and enjoyable life? Do you like annual plans, practical exercises, free printables, worksheets, checklists and step-by-step blueprints to reach your goals?
If you answered yes to any of the previous questions, keep reading…
Learn How To Keep Your House Under Control, Bring any Home out of its mess, Master the Magic of Organization and Enjoy Being At Home, PLUS Learn How To Manage Your Social Media and Organize Your Digital world To Connect with Your Inner Self, Control Your Technology, Have More Fun, And re-Discover the Offline World NOW
Do you suffer from clutter all over your Home?
Do you often struggle every time you want to start to declutter and get your Home tidy, not knowing how to start?
Do you have a hard time letting go of your sentimental items?
Have you tried countless other organizational solutions, but nothing seems to work?
Do you finally want to say goodbye to mess, overpacked kitchen cabinets, and kids' toys everywhere and discover something that works for you?
Are you sick and tired of digital clutter, increasing world distractions and overwhelming social media pressure?
If so, then this book is for you.
Living a worry-free life with a beautiful, organized home doesn't have to be complicated.
Even if you've tried other solutions that didn't work.
The truth is, it's much simpler than you think.
Amazon Best-selling author Kai M. Jordan provides a step-by-step blueprint to Declutter and Organize Your Home and Life and become a digital minimalist by applying proven strategies for digital detox and Home decluttering and organization hacks without overwhelming yourself with complicated approaches and techniques.
In Decluttering Your Life In A Year Or Less!, you'll discover:
 The one hidden reason why your Home is messy in the first place!
The only three powerful techniques you need to know for decluttering and tidying up.
More than 40 fun, exceptionally crafted to guide you through your decluttering journey!
More than 20 mental guidance and reflection spaces carefully placed through the workbook to help you discover yourself more by journaling and reaching your goals quickly!
Secrets to decluttering your home without giving away all your time in return!
Why using the standard systematic decluttering and organizing methods is hurting your progress and what to do instead.
Why your existing tidying up and decluttering techniques are an extra burden with no apparent results (and what to do about it).
How to easily tailored decluttering plans that match patches your goals.
How to prioritize your decluttering sequence of items in the best-proven order.
Surprising advice from Dale Carnegie on how to make your plan work!
What Benjamin Franklin said about Organizing!
The best yearly plan with 12 exercises crafted carefully for you using scientifically proven strategies to help you on your journey to organize your Home.
The most significant mistake people make when dealing with the digital life that prevents them from living a focused and healthy life in our noisy world.
The five ways to live your dream life with worry-free and organized technology in just 21 days.
…. and so much more!
So, If you're ready to get a Decluttered & Organized Home and digital life, click "add to cart" NOW! $0.99 on Kindle.