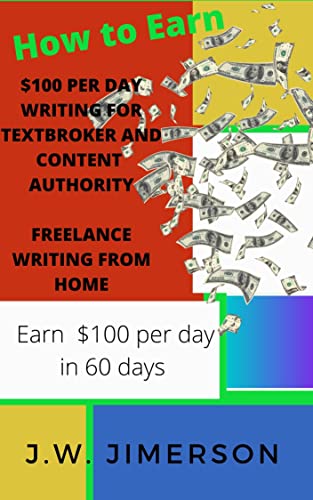 Are you ready to start making money as a writer? Whether you're a fiction writer or nonfiction writer, you can earn big money using your writing skills and creativity, and you don't need a degree, special training, or an expensive online course to do it
The world is full of talented writers who struggle each day to make ends meet. But what if I told you that you could earn $100 or more every day as a freelance writer working for one or two content mills- in just 60 days? If you dream of being a writer, setting your own hours, and working from home while you complete your first novel, then copywriting for Textbroker, Content authority, and other content mills is your answer.
Earning Big Money as a Writer is Easier Than You Think
Download How to Earn $100 Per Day Writing for Texbroker and learn how you can easily earn $100 a day working only five to six hours doing what you love-writing.Writing for content mills is a great side-hustle or full-time job, but you have to know the secrets of how it works to earn real money. This book will teach you everything you need to know about copywriting and how to get started writing as a freelance writer for Textbroker and Content Authority, and how to branch off into bigger arenas where you can earn massive six-figure incomes.Most writers don't know the secrets to earn big money as a writer. While it's great to shoot for stars with your book or novel idea, you still have to earn an income to pay the bills, and the best way for a writer to do that is by writing. I'll show you how to earn money writing for Textbroker and other content mills while you're working on your bestseller or working another job.
Writing for Textbroker and other content mills is a great side hustle or full-time job for college students, stay-at-home-parents, high school students, or anyone who wants to earn extra money as a writer and increase their writing skills.
$2.99 on Kindle.