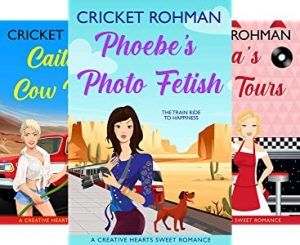 Each book in The Creative Hearts Sweet Romance Series is centered around a hardworking, innovative young woman facing unusual challenges. If you enjoy a little romance, a bit of comedy, and happy endings, start reading any one or all of these standalone novellas today.
Caitlin's Cow Wash: Caitlin feels trapped and out of place living in an old-fashion Leave It To Beaver household. Then, a perfect, win-win solution comes along—a cowboy named Cooper.
Tina's Tasty Tours: Tina has an impossible dream that comes with a substantial price tag. In the meantime, she works at the Punk Patio and a 1960s diner where she is required to look like Marilyn Monroe.
Phoebe's Photo Fetish: Phoebe Foxglove had three loves: Photography, Flowers, and Bobby. Two out of the three served her well.
Anna's Animal House: Anna's new life began the moment she caught a glimpse of the flashing red light. "Time is of the essence," the attorney had said. There was no turning back now. But what was up ahead? Secrets. Mysteries. Love. And wonderful animals.
Free to $0.99 on Kindle.