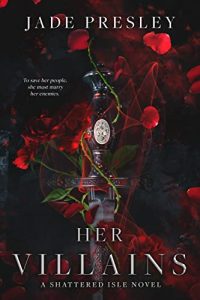 In order to save her people, she must marry her enemies.
Shattered Isle Princess, Cari, has grown up on horror stories about the four All Plane princes, and now she's been promised to them as their bride in hopes to usher in peace between their two warring realms.
First, she has to earn their trust.
Second, she must do what her father raised her to do—kill them all.
But the task proves harder when each of the princes has an unflinching need to claim her as theirs. The chemistry between them is electric. The princes are danger and desire and forbidden temptation, and she's never tasted anything as sinfully sweet.
When secrets are unveiled, she realizes there is more to her villains than she ever knew. Now she's in a battle with her heart, and choosing the wrong side of this war could cost her everything.
Her Villains is a reverse harem fantasy with enemies to lovers themes, some violence, and steamy scenes for readers 18+.
$0.99 on Kindle