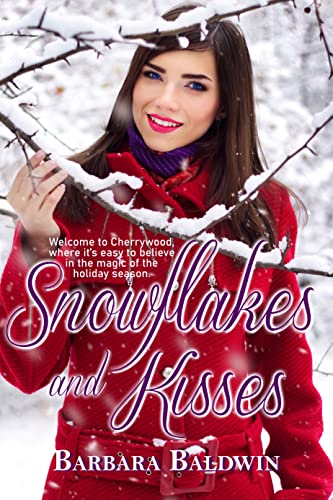 Welcome to Cherrywood — a small town where we celebrate the magic of Christmas all month long. Come enjoy holiday lights, dances and music; ice skating and snow sculptures; fellowship and generosity of spirit and above all – romance and family.
Erin Thomas, confidential investigator, uploads her latest case files to the Hartford DA and happily shuts down her computer, promising herself she won't open it again until the New Year. Even though it's December, she is ready for vacation and looks forward to visiting the small town of Cherrywood. She wants no more than to sleep late, wander the Christmas markets and catch up on reading the latest romance novel from her favorite author.
Remington Matthews enjoys his life in Cherrywood and his job as part time sheriff is enough to keep him busy but also allows him time to pursue other interests. He's happy to help people he's known all his life and even allows his quirky twin sister to pull him into her antics during the month long Winter Festival. Perhaps the only down side to the small town is the lack of romance, but that changes the day he meets Erin.
Erin's encounter with Remington takes her by surprise. She certainly doesn't intend to fall for his cover model smile and engaging personality. Yet because Cherrywood is a very small town, she keeps running into him and before long he completely occupies her time and her dreams. He pulls her into holiday activities she never took time to enjoy; introduces her to family and captivates her with fiery kisses and romantic adventures. In Cherrywood, it's easy to believe in the magic of the holiday. For Erin, that magic and this particular man might change her life forever. $0.99 on Kindle.