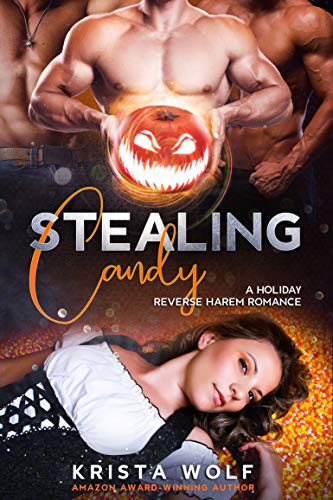 Stuck working Sleepy Hollow's Oktoberfest in upstate NY wasn't much fun, until a trio of gorgeous blond vikings burst into my life. Sure they were wearing Halloween costumes, but why shouldn't that just add to the fun?
Crisp autumn days. Cozy nights by the fire. Working the Halloween holiday season wasn't all bad, until my friend left me house-sitting a strange cottage all alone, in a legendary old town.
Enter my three handsome saviors, ripped and gorgeous, all fighting to rescue me at once. But when an impromptu kissing contest evolves into something so hot it turns me into a molten puddle? My lips aren't the only thing the guys are willing to share.
But Soren and Tristan harbor a secret of their own, and their hilarious college roommate Lucas is on board for anything. Running an old bed and breakfast on the far side of town, the guys need exactly the type of womanly help I'm willing to provide… provided they keep up their end of the bargain, which of course includes taking very good care of me.
Three incredible men. One very willing beer-maid. No rules, no limits, no jealousy – just tons of sizzling hot action peppered by so many twists and turns, not even the Headless Horseman could keep up!
STEALING CANDY is a full-length reverse harem romance filled with pumpkin-spiced lattes, candy apples, trick or treating, and tons of Halloween autumn-style goodness. If you like cozy new adult holiday romance and sizzling jaunts through the old cemetery at midnight? You just found your favorite new RH story. HEA Guaranteed! $0.99 on Kindle