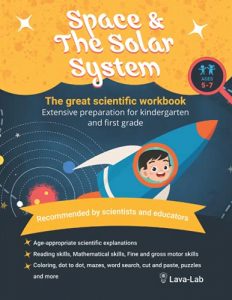 Getting ready for kindergarten and first grade has never been so motivating and fun!
Lava-Lab Provide your child with the knowledge, skills, and exercises required to succeed in kindergarten and first grade through an exciting and empowering scientific learning experience.
Your child will get to know, explore and fall in love with space and the solar system with the help of fascinating and age-appropriate scientific explanations, which will encourage exploration, curiosity, and love for science.
IN THIS WORKBOOK
*Reading skills: attribution, naming, writing and, letter identification
*Mathematical skills: Number recognition, addition and subtraction, even numbers, series and, sequences
*Object identification and hand-eye coordination
*Fine and gross motor skills: Cutting, gluing, folding, drawing, and coloring
*Big time fun: Coloring, dot to dot, mazes, word search, cut and paste, puzzles, and more
*Fascinating age-appropriate scientific explanations
BOOK FEATURES
* 75 activity pages
* 1 award certificate
* For ages 5-7 (K-1)
* Large 8.5 x 11 pages
* Recommendations and suggestions for parents
* Age-appropriate scientific explanations
* Research-based activities to stimulate imagination and creativity
* Clear examples and step-by-step instructions
* Reading skills, Mathematical skills, Fine and gross motor skills
* Coloring, dot to dot, mazes, word search, cut and paste, puzzles, and more
* Kid-friendly illustrations
Based on research this workbook is in Grayscale to encourage children's concentration, awareness of details, expand their logical and creative thinking as well as their imagination
If you are looking for a home study activity book that will prepare your kids for kindergarten and first grade, all while providing exciting scientific enrichment – this workbook is for you! $6.97 paperback only