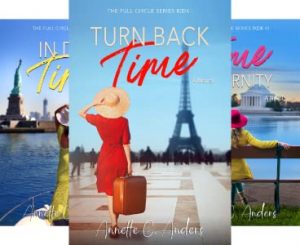 All books in the FULL CIRCLE SERIES are about intriguing friendships, keep-you-on-your-toes relationships, interpersonal drama, and forgiveness. The characters are emotionally rich and not without flaws—which makes them realistic and likable.
The award-winning debut novel, TURN BACK TIME, explores the nature of second chances and how we often struggle to believe in ourselves. Both protagonists struggle quietly with their breakup and—after unexpectedly crossing paths in France—are trying to trust each other and to believe in their feelings again.
IN DUE TIME is a modern friends-to-lovers story. At its center are two friends who are engaging in a rousing, emotional tug-of-war game in their quest to fulfill lifelong dreams. Both characters are adventurous and headstrong, making this a laugh-out-loud funny book while also tugging at the reader's heartstrings.
TIME IS ETERNITY is about two friends who don't realize the complexity of their true feelings for each other until one impulsive moment of passion ends in sorrow and despair. By questioning their ultimate goals and priorities, they are trying to close the void between them in this powerful story about overcoming loss and healing together.
Annette G. Anders combines women's fiction with charming contemporary romance and writes realistic, genre-crossing books with intense scenes. She creates stories in which the protagonists are going on more than one journey and the well-researched travelogue gives each book an additional level of depth. $0.99 to $2.99 on Kindle.