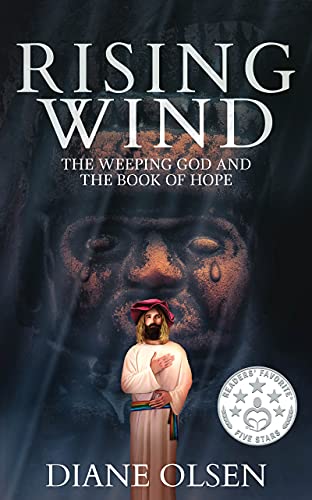 Book Series Overview Given by Readers Favorite & 5-Star Awarded Review for The Rising Wind Series Books 1 thru 3.
The Weeping God and the Book of Hope, part three in the Rising Wind series, is actually a prequel to the first two books, so it's unnecessary to read those first. The lead characters, Sage Dalton and L.W. are the parents of the main character in the other Rising Wind books. Although the characters are different and set in an earlier time period, the book's tone is very similar.
This time they discover an ancient text in a Mexican desert tomb that leads Sage, L.W., and a group of fellow explorers to Tibet, where they find themselves in the middle of a war. Even with danger at every turn, they still manage to discover secret caves that lead them toward an elusive yet powerful Book of Hope.
First and foremost, her books have a superb cast of characters that readers can easily relate to. They care about each other, work together to achieve a common goal, laugh together, and cry together.
Second, her stories revolve around rare ancient discoveries found all around the world. Much like the great Indiana Jones films, each new discovery comes with an element of danger.
The third common theme is an embracing of all world religions. Religion is somehow intertwined with each rare find that the characters make. Readers will appreciate the way Ms. Olsen always characterizes the religious elements in her stories in a positive light, as the hope of mankind rather than the way most works of fiction portray religion in a negative sense as humanity's biggest problem.
This is a fun read filled with colorful characters and lots of action. I recommend it for fans of character-driven adventure who like to learn about science, ancient civilizations, and world religions along the way. $0.99 on Kindle.