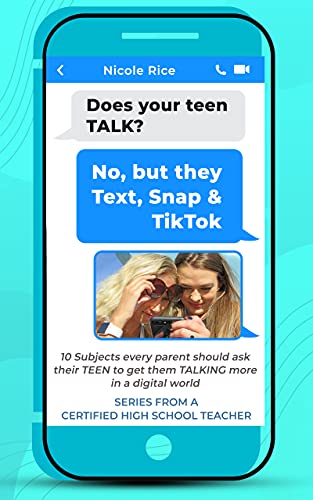 ARE YOU STRUGGLING TO TALK TO YOUR TEEN?
First, let's be real… Who isn't?!
Getting the Social Media Addicted Teenager in your life to actually have a conversation with you can seem more like an invitation for heavy eye-rolling. You may be feeling like your teen is fast-forwarding to the end of every conversation while silently scrolling through the latest trendy app. They then only emerge from the dark cave, known as their bedroom, to stock up on snacks and get a quick dose of sunlight. The average teenager sends over 100 texts per day and is statistically more likely to communicate with their friends via some form of messaging like snaps or DM's versus calling them or speaking to them in person.
Chapters include
– real life hallway stories
– real quotes from teens themselves
– cartoons to help you survive having a teenager in your life
A desire for an active relationship with the teenager in your life can stretch beyond the one hug a year you get from your teen at Christmas time after they receive their presents. Does your teen TALK? No, but they Text, Snap, & TikTok, she wants to help you achieve
– what to say and what not to say, so your teen will talk more
– what to do, so you spend more and more good times with your teen
– how to talk less and listen more, so you are a major difference in your teen's life and when they start talking more, and showing you their astonishing self, be prepared to be blown away! $2.99 on Kindle.