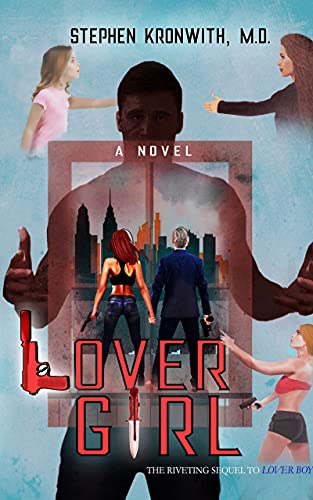 Sammy, 'Lover Boy' Vivino, the retired legendary hitman, answers his doorbell to find a beautiful young woman at the threshold. Unfortunately, the silenced pistol aimed at his heart quickly dashes any hope for romance. For this woman is Angelica Fortuna, a conflicted, wisecracking assassin, nicknamed l'angelo della morte – The Angel of Death. Her father, Philadelphia's Don Vito Fortuna, has sent her to New York with one simple order: kill Lover Boy!
Angelica, though, has her own agenda and soon joins Vivino in a desperate race to rescue a kidnapped young girl, while simultaneously falling in love with another man she barely knows. Because of Angelica's paternal defiance, however, she and Sammy will soon face an additional, deadly obstacle to saving the child – another Fortuna assassin. And this sadistic killer has equally straightforward orders: kill Lover Boy, l'angelo della morte, and whoever stands in the way!
Lover Girl, #2 in the Lover Boy series, will appeal to those who enjoy strong, female protagonists and novels similar to those of Nelson DeMille and Carl Hiassen. It combines often hilarious dialogue, tender romance and nail-biting suspense while concurrently examining the true value of family and friendship – all climaxing in two, edge-of-your-seat battles for survival.
$2.99 on Kindle.