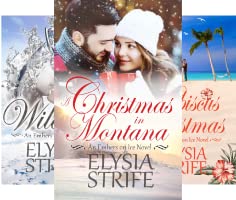 A fiery Irish woman and a callous veteran deny their attraction after their initial confrontation. Sharing the loss of mutual friends and family members brings them new perspective. When secrets crawl out of his past, a friend breaks her heart, and an ex stashes a bullet in her pocket, Matt and Orion learn to find strength in one another. When they uncover the scars of their pasts, Matt and Orion find common ground, and their love grows.
Then her ex goes missing. A friend is shot.
A mission comes back to haunt Matt in more than the form of nightmares. A trail of photos and mysterious texts keeps Orion looking over her shoulder. But Matt, a famous billionaire bachelor, has companies to tend to, and Orion won't let fear keep her from protecting her small town by fighting summer wildfires. If they want to move forward together, they have to spend time apart. Their budding love is quickly threatened by secrets, lies, and an unthinkable action.
Can they find a way to keep their love alive and stop the ones who aim to dismantle justice and peace?
This holiday romance suspense series features sweet love, lots of food, humor, some cursing, and violence. Free to 2.99 on Kindle.