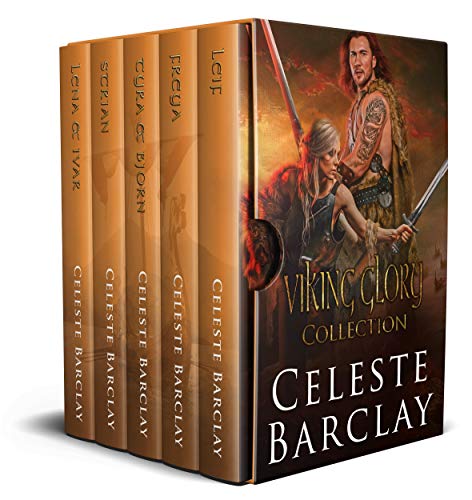 FROM POPULAR HISTORICAL ROMANCE AUTHOR CELESTE BARCLAY COMES A COLLECTION OF STEAMY VIKING NOVELS.
Welcome to the Norse world of Viking Glory. Return to the days of adventure and honor, with brave but flawed warriors and the women who challenge them. Love Romance and Alpha-Males?
Discover the heroes within these pages. Over 1600 pages of adventure, romance, and swoon-worthy passion that will keep you reading well into the night. This collection contains:
Leif – Drawn together by the will of the gods, Leif and Sigrid battle to save their people from a rival tribe's scramble for power. Set sail for adventure in this steamy Viking romance sure to leave you breathless!
Freya – What happens when an immovable object meets an unstoppable force? Sparks fly and love blooms. Attracted to her beauty from the moment he first saw her, and drawn to her fiery spirit from the moment they met, Erik is determined to win Freya over.
Tyra & Bjorn – They were born for swordplay, but fighting their feelings is a losing battle. You will love Tyra & Bjorn in this steamy tale of a big-hearted Viking with a huge sword and a warrior woman with a huge attitude.
Strian – Torn apart during one battle only to be reunited during another, Strian and Gressa must learn to trust one another again, sharing the truth of their time apart while relying upon one another to survive.
Lena & Ivar – Lena & Ivar is the prequel novel to the Viking Glory series. Meet the generation that laid the foundation for the unstoppable characters from this suspenseful and steamy series. Norse lore meets passion and intrigue, only from master storyteller Celeste Barclay. $0.99 on Kindle.