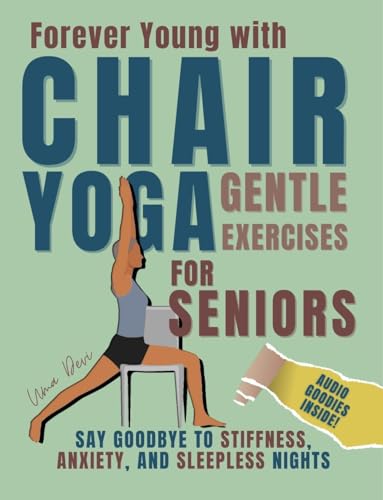 Ready to unlock vitality, conquer stiffness, and rejuvenate your life? Let's dive into the transformative power of FOREVER YOUNG WITH CHAIR YOGA together!
Uma Devi, a seasoned yoga teacher with two decades of wisdom, brings you more than just a yoga guide; it's a journey of self-love, self-care, and self-compassion.
Chair yoga isn't just about postures; it's a personalized path designed for you, regardless of age or physical condition. In just 10 MINUTES daily, you'll witness profound well-being changes. We're also unveiling an invigorating BONUS: an 8-WEEK PLAN that elevates your practice.
Inside, you'll find:
An approach tailored specifically for seniors, based on proven techniques.
Illustrated step-by-step instructions, enriched with benefits.
Variations, modifications, and safety notes for each pose to ensure it meets your individual needs.
Personalized exercises, regardless of your age or physical condition.
Techniques to improve flexibility, stability, and pain relief reduction.
Profound changes in well-being with just 10 minutes of daily exercise.
And here's the EXCITING BONUS CONTENT! ?
BONUS 1: Immerse yourself in an empowering 8-WEEK PLAN for consistent progress and enhanced overall well-being. Each week, we delve into a specific chakra, its elements, and its profound body connections.
BONUS 2: Experience THREE soothing and rejuvenating audio meditations, available for easy download:
Stress and Anxiety Relief: Shed daily burdens, find tranquility, and gain mental clarity.
Deep Sleep Enhancement: Drift into a peaceful slumber and awaken revitalized.
Mindfulness and Inner Peace: Rediscover the beauty of the present, reducing stress.
These meditations complement the book perfectly, providing a powerful way to infuse mindfulness and relaxation into your daily life.
This is your chance to:
Expand your range of motion and FLEXIBILITY.
Boost STABILITY and COORDINATION, elevating your confidence and independence.
Bid adieu to BACK PAIN, STIFF JOINTS, and muscle discomfort.
Nurture overall well-being and REDUCE ANXIETY.
Enhance SLEEP QUALITY and rejuvenate your energy levels.
It's never too late to embark on your journey toward a healthier, more fulfilling life. Chair Yoga is designed for beginners, guaranteeing accessibility and comfort every step of the way. Whether you're grappling with chronic pain, limited mobility, or simply seeking a healthier lifestyle, Chair Yoga stands by your side.
Don't wait! Secure your copy today and begin your voyage to a more active, balanced, and healthy life.
Embrace vitality, rejuvenation, and a brighter future! Free on Kindle.