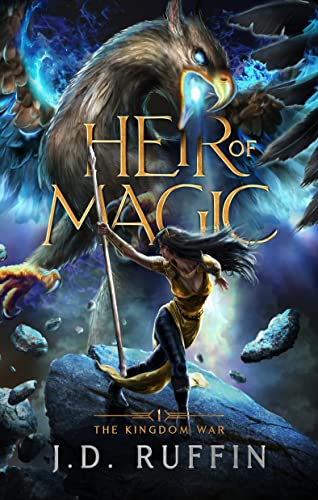 Whispers of magic, shadows of danger, fate teeters on a dagger's edge. In a world of magic, a secret sect seeks to revive their evil queen whose anger and thirst for revenge could destroy the world. As kidnappings begin to occur, Keelan races to save the missing individuals. He uncovers a sinister pattern. Only those with magic are being taken, but to what end? In a distant kingdom, the Crown Princess disappears, and blame is laid on their neighboring nation, leading to the call for war. As banners are raised and armies prepare for battle, danger looms everywhere. You'll love this action-packed adventure because everyone yearns for magic and hope in a time of darkness. Join the adventure today. What do readers say about the Kingdom War Series?
***** "There's everything in this book, from forbidden love to betrayal and murder and mystery . . ."
***** ". . . had me hooked from the start."
***** "What a great story! The characters snuck into my heart . . . found myself wondering what would happen next . . ."
***** "Can't put it down! The story moves swiftly . . . Every main character is likable, even lovable . . . a treat for anyone who loves fantasy, with a cliffhanger ending that leaves me hoping Book 2 will come soon."
***** "If you love fantasy, this book is for you." $0.99 on Kindle.