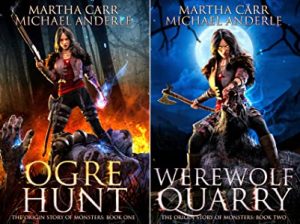 Halsey Ambrosius is the best elemental monster-hunter in her Clan militia.
Have you ever wondered where monsters came from? Their origin has been kept a secret for centuries.
As long as Halsey and Brigham, her cousin turned mission partner, were on the hunt, you didn't need to wonder, or worry. Till now.
Keeping people in the dark is not so easy when supernatural things stop following the rules and the Clan Council doesn't want to accept that something is very, very wrong.
It's a full moon, the Summer Solstice, and an ancient coffin has washed up on the beaches of Moher, Ireland. Could the Mother of Monsters really have returned? It's just not possible.
Halsey's convinced it's more than mere coincidence. The Ambrosius Clan just doesn't want to believe.
They think Halsey is losing her mind—an apparent family trait—and needs a break from monster hunting.
Mandatory leave isn't as much fun if it's mandatory. Or when you're the only hunter who really knows what's going on.
But the Ambrosius Clan Council still knows that when all else fails—and all other militia operatives just aren't up to snuff—Halsey is still the best they've got. Even if everything they thought they knew about being monster-hunters is about to change forever.
Can Halsey dig up enough evidence to prove that the elementals' ancient foe has returned to level the monstrous playing field? Or will it be too late to prepare for what's to come?
From $0.99 to $4.99 on Kindle.