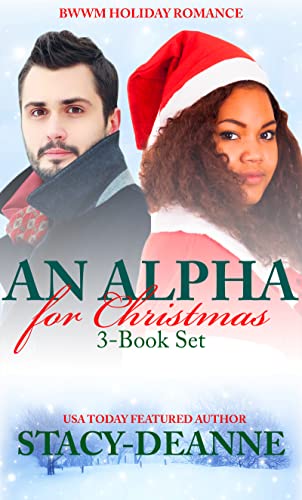 This set includes:
Hawaii Christmas Baby
When Talia, a beautiful, black, independent, make-up artist wakes up from an enchanting night in billionaire Jody's arms, she has no idea that she's slept with her new stepbrother, the estranged son of her mother's new wealthy husband, Ben. Even though Talia is convinced their affair is wrong, Talia and Jody can't keep their hands off each other. Meanwhile, Ben is running for mayor in Hilo, Hawaii, and feels Talia and Jody will jeopardize his campaign. Just when Talia tries to end things with the lovesick Jody, she finds out she's pregnant and must choose between satisfying Ben and her mother's best interests or being with the man she loves.

A Savior For Christmas
Because of his parents taking out a loan before they died in an accident, Zach will lose the family ranch to the bank if he doesn't come up with the money to repay. Unfortunately, the only person who can help him is Mariah whom he embarrassed by leaving her at the altar a year earlier. Mariah has never gotten over how Zach broke her heart and has wanted to confront him all this time. But the minute his dusty cowboy boots march into her office, Mariah's hit with a thunderbolt of emotions she's not prepared for. On the flip side, seeing the love of his life again has Zach's heart doing cartwheels, and he's forced to face the mistake he made by letting her go.
The Best Christmas Ever
All hell's breaking loose in the Bible Belt. After getting out of prison, 23-year-old LJ McCormick settles in Beluga, Georgia for a fresh start. That won't be easy thanks to Beluga's bible-thumping residents who have issues with LJ's past and him being an atheist. Everything the community doesn't like about LJ makes him irresistible to Ginger, the wild and flirtatious daughter of Reuben and Nola Ryder, the pastor and first lady of the church. Sick of being seen as just the preacher's daughter, Ginger finds solace in LJ, and the two fall in love despite the obstacles in their way. Meanwhile, 45-year-old Nola is desperate to get her marriage back on track but her world turns upside down when she meets Quinn Moretti, an ex-con with a heart of gold, who gives her the attention and passion she's not getting at home. $0.99 on Kindle.