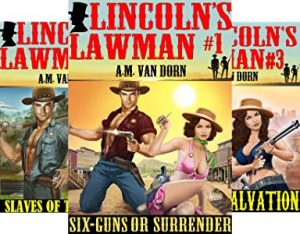 THE CIVIL WAR IS LONG OVER LEAVING IN ITS WAKE THE GREAT EMANCIPATOR BELONGING TO THE AGES, BUT HIS LEGACY LIVES ON IN THE MAN THEY CALL LINCOLN'S LAWMAN.
The vanguard of a new breed of marshals envisioned by the slain president, the formidable Nash Riker upholds his sworn duty on America's newest battlefield, the lawless West.
With McKenna, his deputy, confidant and best friend all rolled into the form of his twin sister, at his side, Riker endlessly patrols the western landscapes delivering justice and bringing hope.
The siblings' drive to deliver law and order is matched only by their embrace of sizzling encounters with the opposite sex as they fight to restore order and vanquish villainy wherever they might encounter it.
$2.99 each on Kindle.