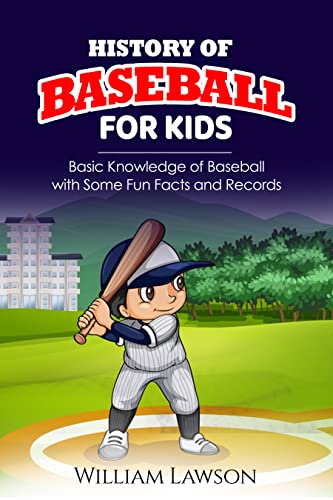 The perfect baseball companion for curious young minds.
Is your home buzzing with all things baseball?
Do you find your child transfixed during matches?
Are they constantly asking questions about the game and the players?
Rightly dubbed 'the spirit of America', baseball continues to enjoy high popularity as America's favourite pastime — and has done ever since the early 20th century.
According to Forbes, Major League Baseball continues to attract more than 8 million viewers from American households, with over a billion minutes streamed online.
So it's no wonder that baseball finds its way so easily into conversations — whether it's with someone in your family, your neighbor, or your best friend.
It's no surprise that, with so much exposure to the game, your child has developed an interest in the sport. Every single time they're around someone who loves baseball, they're going to hear excited conversations about scores, player performance, and historical clashes between top players.
And when your child starts to get curious and ask out-of-the-box questions, they're going to turn to you for answers.
How do you feed this curiosity?
The answer is simple: by giving them a fun-filled baseball companion.
In History of Baseball for Kids, your child will discover:
A kid-friendly guide to understanding baseball (including fielding positions and essential rules)
The history and evolution of 'the spirit of America' — find answers that ignite your child's imagination and curiosity (including fascinating details about the bat and ball)
The best players ever in every fielding position (and how they've overcome a whole range of challenges)
The 20 best baseball teams of all time — from the New York Yankees, to the Boston Red Sox, to the Philadelphia Phillies, this guide covers all the bases
Thinking Like a Coach — discover the achievements of 30 of the best baseball coaches and managers
The Hall of Fame — enjoy a fun-filled journey packed with unbreakable records and crazy facts that make baseball America's favourite pastime
Leagues Galore — discover everything about MLB and MiLB (including top minor league teams and players)
A Baseball Cinematic Experience — explore 25 awesome baseball movies that your child can enjoy with friends and family
And much more.
Baseball is more than a sport — it's the collective pulse of America that beats high every season.
And you can give your child their first steps into this amazing world.
If you want to satisfy your child's curiosity for everything baseball, scroll up and click "Add to Cart" right now. Free on Kindle.