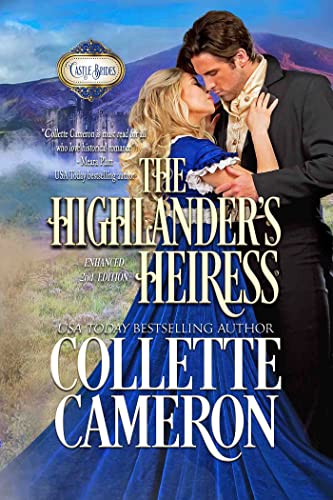 She's a strong-willed heiress. He's a powerful lord with a secret. Tempers and passion collide. Yvette Stapleton has no need for a husband. Ever. Possessed of a fortune,
she's determined to forge her own future without matrimony's confining bonds. Besides, she's yet to meet a man who doesn't find her wealth more alluring than her. Until she meets Ewan, the Viscount Sethwick, that is. Ewan, also Laird McTavish of Craiglocky Keep, has one last mission before resigning his position as a covert agent: to oust a War Office traitor. He'll stop at nothing to succeed. Except exploit Yvette, the vixen who captured his interest months ago. As peril mounts, they flee to Scotland, the only place Ewan is confident he can keep Yvette safe. However, on the journey, dangerous circumstances force them into assuming the role of a married couple. Incensed upon discovering the marriage is legal under Scottish law, Yvette is determined to have
the union annulled. But Ewan's just as resolute she'll remain his wife… $0.99 on Kindle.