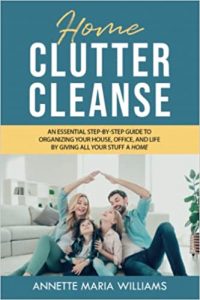 Thinking of decluttering your home but have no idea how? We've got you!
Want to find your stuff in less than 5 minutes? Putting everything where it belongs will help you save both time and money! Organizing and decluttering is your ultimate solution. Efficiency = Less Stress = More energy to enjoy life! This book is the complete roadmap to discovering peace in your home.
– Discover proven approaches to organizing
– Declutter – where do I begin?
– Selling your items to create more storage space in your home
– And the astonishing results that can change your life
I'll share with you all the special techniques used by Professional Organizers to create order in any home:
– What to do with your playroom, family room and home theaters
– Reorganizing entryways
– The living room spaces and its different styles
– How to bring relaxation to your bedrooms
– Restructuring your closets
– Home Office and Zoom Room ideas
– What storage containers are ideal for every room in your home
– How to keep your kitchen and pantries, coffee and breakfast centers orderly
– Systematizing your laundry areas, garage and attics
– What are drop zones?
This Do-It-Yourself guide to home organizing and decluttering is packed with doable instructions and helpful tips to your home makeover journey. With this book in your hands, you can save time and energy by following the tips, tricks and advice that have taken me years to master.
? The Pros and Cons of hiring a Professional Organizer
? The benefits and importance of a well-organized home
? It will also help you make planning and home organizing fun and easy
Remake your space and an organized home and office will remake your life.
Click the "Add to Cart" button now to take advantage of this life changing information! $0.99 on Kindle