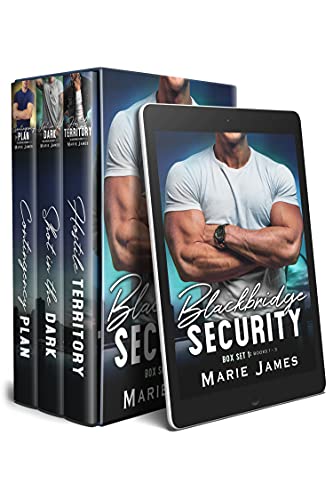 Box Set contains Hostile Territory, Shot in the Dark, and Contingency Plan!
Hostile Territory
Can you call someone an enemy if you haven't seen them for the better part of a decade?
Deacon Black is perfectly content with the status quo—work, sleep, repeat. Who cares if he's rigid, structured, and set in his ways? It's a job requirement that keeps his men safe and his company's doors open. One phone call is all it takes to upend his life and land him right back into a past he has tried to forget. Revisiting old ghosts is the last thing he needs. Especially when the forced trip down memory lane includes the only woman he never wanted to see again.
Annalise Grimaldi hit the jackpot with her life—from her trust fund to her best friend, she has it all. But her world comes crashing to a halt when her best friend vanishes— leaving behind an apartment in tatters and more questions than answers. There's only one person she can think of that can help in a situation like this. She hates to make the call, but there isn't a thing she wouldn't do to make sure her friend is found. Even setting aside her hatred for Deacon Black.
Shot in the Dark
As an IT expert and hacker extraordinaire, Wren Nelson is no stranger to discovering all sorts of secrets online. He's a warrior…when he's behind his computer, that is. And awkward at best in social situations. His long hours with Blackbridge Security don't really provide many opportunities to go out and meet people. So what is he supposed to do when a wrong delivery—a questionably large box of bedroom toys—ends up in his hands instead of its intended target? Online stalking has always been his go-to to accumulate information on people, but only seeing Whitney through digital displays isn't enough. Approaching her doesn't seem like the best plan either. What he doesn't know is that this woman is possibly the only one in existence able to give him a run for his money.
Contingency Plan
As a former FBI agent, Flynn Coleman was made for his work with Blackbridge Security. He's highly trained, has a skill set meant for analysis and investigation, and meant to do important things.Yet, he's chasing a twenty-year-old starlet's daughter around New York City because the spoiled brat never learned how to behave. Remington Blair doesn't need a babysitter, but her parents insist. Keeping Flynn Coleman on his toes will be the most fun she's had in a while. Besides, just hearing him call her name with that accent is enough to keep her running.
Series contains a band of brothers unwilling to just stand by and watch a woman in need, a foul-mouthed parrot who gets in everyone's business, and a level of steam you may not be ready for. $0.99 on Kindle.