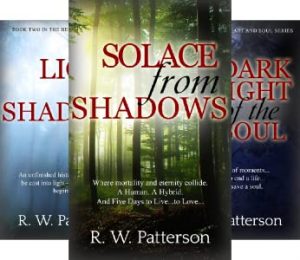 The completed Heart and Soul series is a tribute to lost souls who stumble from the shadows of who they were, and into the light of who they were meant to be.
After a tragic wreck claims Elaine Pearson's family, she embarks on a solo hiking trek into the Blue Ridge Mountains. She only wants to escape her blighted past and the pain of her broken heart. But through a chance encounter with a protective, mysterious stranger, she is thrust into a world where dark creatures that haunted her childhood nightmares are now stalking her from the shadows…and trailing her up a mountain.
During a summer sabbatical, Duke University geneticist, Dr. Ian Kearney, finds Elaine stumbling along the Bartram Trail alone. His slumbering hybrid vampire/lycan soul slowly begins to awaken, and he is unable to resist or deny the persistent soul stirrings that leave him craving a mate. His forgotten human self, however, is also awakening…and the man within wants everything he knows he shouldn't–her.
The first book in the series, Solace From Shadows, introduces Elaine, a young widow trying to make amends with her painful past; and Ian, a uniquely created hybrid who is searching for more than the hollow existence he's carved out among humans. Their struggle to find peace, while coping with a resurrecting past, becomes a test of determination and fortitude when letting go is impossible.
R. W. Patterson recognizes the Heart and Soul series is recommended for Adult Audiences as they contain mature scenes and violence. Each book is not intended as a stand-alone novel. Free on Kindle.