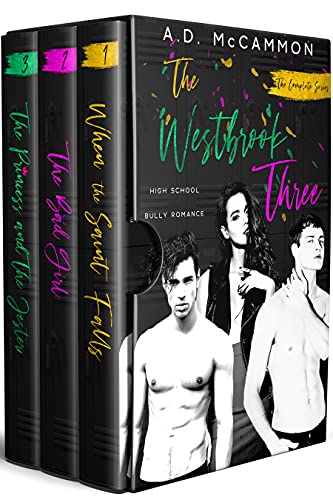 Three steamy, angsty, enemies-to-lovers romances in one!
When the Saint Falls
Thatcher Michaelson is a bully.
Arrogant. Cruel. Ruthless.
And the most attractive guy I've ever laid eyes on.
He's the rebel of Westbrook high, and I'm merely the annoying goody two-shoes he dubbed the saint.
There must be something wrong with me. After nearly two years of dirty looks and constant humiliation, I'm still crushing on the guy who hated me on sight.
Then he kissed me and instead of the ice-cold gaze I was accustomed to, I saw passion burning behind his dark molten eyes.
Violet St. James doesn't belong in my world.
Good. Kind. Pure.
She's everything I'm not.
She doesn't just look like an angel, she is one. And I've fought every impulse to make her mine.
But all my efforts went up in flames the second I tasted her sweet lips. My inability to stay away has changed everything.
She's determined to break down all my walls, but my little saint doesn't understand the consequences of her actions.
She tells me she's not afraid of the fall.
But she should be.
The Bad Girl
Arwen Sullyvan is a real nightmare.
Callous. Cold. Calculating.
And the first girl I ever loved. She's the bad girl of Westbrook high, and I'm their precious golden boy.
For years, she's delighted in punishing me. All because I'd fallen for her. And, like a fool, I still want her.
Then a drunken confession slipped through those plump lips, and I saw fear swirling in her stormy eyes.
Aidan Shaw is the bane of my existence.
Charming. Gorgeous. Noble.
He's everything I never knew I wanted, and it scares the hell out of me. I've tried to keep my distance and bury those feelings.
But one stupid mistake—one moment of weakness in the face of temptation—was all it took to turn our flame into a fire.
He's intent on loving me, but not even his golden touch can change my black heart.
He thinks he can break me.
But a savage can't be tamed.
The Princess and The Jester
Cole Masterson is an imposter.
Fake. Phony. Liar.
And, once upon a time, he was mine. He's the fearsome jester of Westbrook High, and I'm the spoiled princess.
They don't know the real Cole—not the way I did. He's been a stranger to me for years, pretending to be one of them. And I'm desperate for him to see me again.
Until he moved in down the hall. Now, there's no escaping his hungry emerald gaze or wickedly sexy smile.
Gwendolyn Rhodes is one of the rich elite.
Privileged. Entitled. Pampered.
She's out of my league. No matter what I do to fit in, they'll always see me as the housekeeper's son. I've tried to forget about her—to move on with my life.
But I let her games pull me back in. All bets were off the second I got too close to her.
She's been messing with my head, but I've changed the rules.
She didn't plan to wager her heart.
But I'm playing for keeps. $9.99 on Kindle.