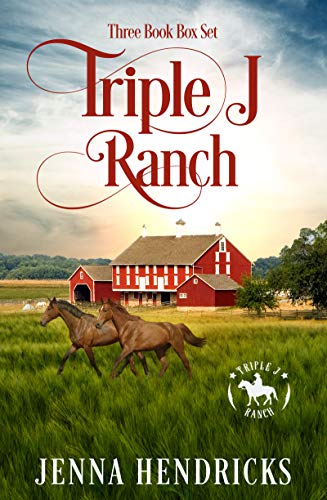 This boxed set contains the first three siblings in the Triple J Ranch Series! Come on over and meet Elizabeth, Luke, and Matthew Manning.
When Elizabeth met her high school sweetheart 10 years later, she had no idea she'd be getting a second chance at love. Not to mention a lesson in faith that only helped her family grow closer.
Luke Manning's Cowboy Ranch served up plenty of action when he met a kindred spirit in Callie Houston. Then got shot protecting her from cattle rustlers! But will love and Faith in God prevail? And will they get their happy ending?
Matthew Manning had no clue he'd find a bride on the side of a dusty road with no memory of who she is or why she's in a tattered wedding dress. With a little help from God, and his parents, Matthew and Chloe will discover who she is and what God's plan for her truly is.
If you like no-nonsense cowgirls, clean stories, and heartwarming attractions, then you'll adore Jenna Hendricks's wholesome tales of love and devotion, not only to family, but also to God. $0.99 on Kindle.