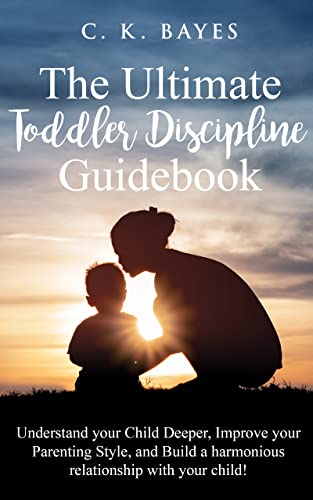 Help! Why is my toddler acting this way?
Does your little one……refuse to put down the smartphone? …resort to hitting, biting, or lying on the floor when they don't get what they want? …experience mood swings for no apparent reason? Then it's time for some toddler discipline!
Lots of developmental milestones occur as children reach their toddler years, including the emergence of defiant behavior, shyness, and separation anxiety. Traits like irritability, assertiveness, and impulsivity can be very difficult for parents to deal with—not to mention, amidst all the chaos in the day-to-day lives of parents i.e. work and other aspects. However, despite countless tantrums and meltdowns, it's never too early—nor too late—to enhance and nurture your child's behavior.
Excited to learn how?
Master in the art of toddler discipline, full-time homemaker, and devoted mother, C. K. Bayes presents the key to
raising kids with love and wisdom in The Ultimate Toddler Discipline Guidebook—every parent's complete, friendly, and constructive approach to handling and correcting challenging toddler behavior.
Discover surprising facts and timeless strategies on:
interpreting toddler behavior
communicating with toddlers
helping children create healthy boundaries
emotion coaching and logic
building for kids
trouble forecasting
enforcing rewards, punishments, and time-outs
managing screen time
And so much more!
This book also includes an exclusive self-care guide for parents. Here's your chance to understand your child deeper, improve your parenting style, and build a harmonious relationship with your child. Embark on the parenting journey of a lifetime with a copy of The Ultimate Toddler Discipline Guidebook today! $0.99 on Kindle.