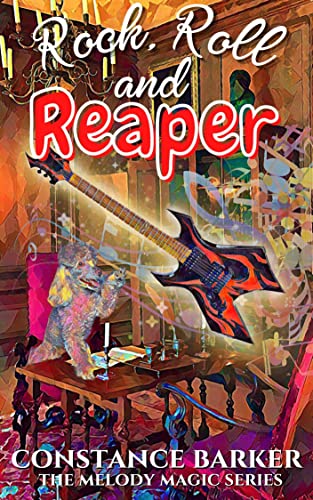 The Mazurki family music store is busy as ever with repairing amps and selling vintage and brand new guitars. Alley's old friend, Olive, has an amp she needs repaired but Alley notices her friend appears downright spooky with her blanched skin and sunken eyes. Olive blames a strange sound from outside her bedroom window at night zapping her strength. Alley offers to spend the night and awakens to someone lurking outside. From then on Alley is plagued by unfortunate circumstances. Cousin Madge warns her a Misery Mage may have their sights on Alley. And when another school chum is attacked and he only repeats Alley's name, will she be the sole focus of the police?
Penze and the Deputy Steve are getting very cozy. Can she pull some information from him without upsetting their relationship? And does Alley have a new admirer in the vintage guitar seller? Or could he be a Misery Mage in disguise?
Aunt Zelda brings in a huge haul with a harp. She got it for free…does that indicate a bad omen? $0.99 on Kindle.