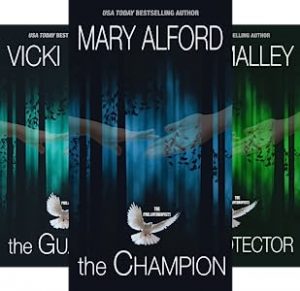 From USA Today bestselling Author Mary Alford comes The Champion.
Dr. Aaron Carson's once promising career as chief of surgery has gone up in flames because the mistakes of his past remind him of the lives he's failed to save. First his best friend in Afghanistan, and then his wife.
Running away from his failures, Aaron finds himself hiding out from life among the Apache people of northern New Mexico. When a young hit-and-run victim is brought into the clinic where Aaron works, the boy's death will lead him and Tribal Police Chief Rachel Altaha on a twisted chase into the seedy world of human trafficking to catch a killer.
For Rachel, almost watching a young woman die in front of her is a painful reminder of the one person she hadn't been able to save. Her best friend from high school. Jasmine disappeared the summer before their graduation and was never seen again. Rachel is even more determined to save the lost young women who have fallen through the cracks of society like she couldn't save Jasmine.
Working closely with Aaron, Rachel soon learns Aaron is not only her champion, but also the one who donated the money anonymously to save the clinic from closing. As Rachel unravels the secrets from Aaron's past that brought him here, she feels a connection to Aaron she hasn't experienced since she'd lost her husband to war.
But with a killer on the loose and his victims mounting, she and Aaron must set aside their hopes for the future in order to bring the killer to justice before he disappears once more into the darkness in which he hunts.
From USA Today bestselling author Vicki Hinze comes The Guardian, another chilling installment in The Philanthropists series of engaging reads.
Harper Adams Holt has been kicked in the teeth hard twice in two months. Her brother was assaulted and left for dead and has been in a coma four weeks with little hope of survival, and two weeks after that assault, her husband was murdered. But is he really dead? Or will he return to torment her and their daughter, Maddie, yet again? If only when she'd left him before he hadn't found her… But he had and he'd issued an ultimatum: return with him and Maddie, or never see her daughter again. Now his former business partner wants her and Maddie dead. Harper has nowhere to turn. Her situation is hopeless. . . until a concerned nurse summons The Guardian.
From Amazon Bestselling Author Ann Malley comes, The Protector.
Buckle up for break-neck, interracial romantic suspense from Amazon best-selling author, Ann Malley. The Protector is the third installment of The Philanthropist Collection of short reads to set your spine on fire.
Trained like a SEAL, cloistered like a nun, Nina Benoit needs out from under her daddy's thumb. She loves him, not the crew-cut, intelligence trained babysitters. She needs to shake them. Permanently.
Enter Daire Warren, a well-connected billionaire Nina meets at the firing range. Too cute. He's a philanthropist who does good when his image needs polishing. The New Orleans darling is a notorious playboy. He's ten whole years older than Nina. A huge age gap for an inexperience girl.
Daire is a father's worst nightmare, so Nina entertains his advances with her own agenda.
A single date will give her daddy the shock of his life. Daire is more than willing to help a girl out. Naturally. The Commander should know what type of man his daughter could bring home…if she wants. And Daire is a snake in the grass, a CIA undercover operative who could recruit Nina for the CIA She's leverage for now, to turn her spy father into a willing double agent.
Daire's plan is on schedule, but not the melting of his heart. Nina is no child. Mature, witty, well informed, she takes him to the limit. Nina feels the same. Daire isn't what he's advertised to be. He's charming, adorable, sure, but the playboy has a heart. A real one. So, when one of his humanitarian efforts blows up–on their date–she's all in. Staying alive is top priority. But this girl's got skills.
Nobody's putting Nina in a corner!
Car chases, gun fights, Columbian drug lords, bawdy Bourbon St, a missing girl, and one eerie brush with the supernatural come next. Only part of this clean, interracial, undercover romance! Buckle up and take the ride!
From USA Today bestselling author Peggy Webb comes another page-turning story in The Philanthropists suspense series.
At midnight in the Deep South, innocence and evil walk hand in hand in The Ally.
Every waking moment Jenna Dahl re-lives the day the plane went down, plunging her husband and little girl to their deaths. When they died, she was on a book tour, promoting the series that catapulted her to unexpected wealth and fame. To get through her grief, she formed the Grace Foundation, named for her daughter. Now she gives away the money that cost her a family. A near-reclusive, she holes up in her home in historic Vicksburg with
From $0.99 to $2.99 on Kindle.