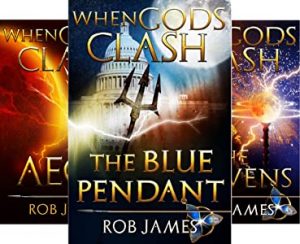 Angus MacDonald must fight ancient deities and win to save mankind.
While visiting the battlefield of Culloden, Scotland, emotionally damaged US marine veteran Angus MacDonald hears a voice. A voice that connects him to his forefathers, butchered by the British in 1746. It delivers a frightening message: Fight an unworldly foe or prepare for Earth's enslavement.
The terrors he faced in Afghanistan pale compared to this latest enemy and the toughest battle of his life begins. When he returns to Washington, D.C., Hades, follows. The Gods of mythology's voice had told him Hades was alone in his hate, but no, and the vicious attacks are beyond his imaginings as the theater of war spreads.
Can he preserve his sanity and survive?
Armed with love from his teammate, Jessica, and family, Angus recognizes the universal truth that love is greater than any weapon. Then tragedy strikes as friends perish. Hope fades when a new challenger arrives. The scourge of civilizations glares fury, and survival rests on the outcome of his ultimate battle.
When Gods Clash is set in the present day. Packed full of paranormal intensity, this thriller races to a dramatic conclusion.
From Free to $2.99 on Kindle.