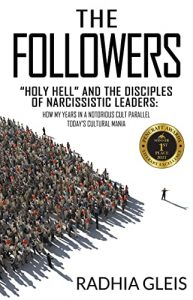 Winner of the 2021 PenCraft Book Award, 1st Place, Non Fiction – Autobiography
Radhia's personal story and comprehensive knowledge along with her authentic, and unfiltered humorous style presents a compelling portrayal of both the political and cultural dynamics of group-think and mind control.
After twenty-five years of her adult life in a cult, under the influence of a narcissistic sociopath she sought to understand why she made the choices she made in her life, so she could better understand why others make their choices. The Holocaust or any genocide instigated by a narcissistic authority does not happen because of one man. It is the collective consciousness of their followers that supports and enacts those atrocities. Like Moonies under Sun Myung Moon, Germans under the influence of Hitler, or the Branch Davidians under David Koresh, a percentage of America has fallen into a cult of personality. Radhia set out on a journey to explore common traits that every human being possesses.
She makes the strong parallels between her devotion to a cult leader—an authority—whose damaging behavior and influence she willfully ignored, and the followers of other authoritarian leaders. This is not about policy or political ideology or even the guru or our political leaders, as much as it is about the followers from the viewpoint of a follower. Free on Kindle.