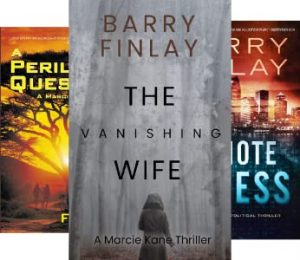 Marcie Kane is a strong, independent, and divorced woman living in St. Petersburg, Florida. The sometimes impulsive Marcie is a magnet for trouble as she becomes embroiled in one international crime related incident after another. Each book in this four-book series stands alone but the characters evolve. Marcie helps look for a friend's missing wife, tries to help young women sucked into a human trafficking ring, races against time to try to prevent the assassination of the president of the United States and tries to stop a serial killer who is picking off his perceived enemies one by one using drones. Meanwhile, she finds time to become attracted to an FBI agent names Nathan Harris.
Buy this series and follow Marcie's exploits as she travels around the world finding trouble wherever she goes, each time with deadly consequences.
And don't forget Never So Alone, the exciting prequel novella to the series, where we learn more about Nathan's background as he goes undercover in a drug operation.
From $0.99 to $1.99 on Kindle