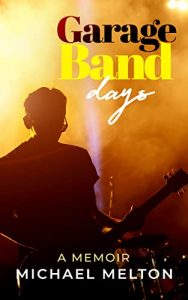 The 1960's was the perfect time for teenagers to create bands.
Rock and roll was young and instruments were inexpensive.
And most importantly, there were many places for these young musicians to play on Friday and Saturday nights; skating rinks, National Guard Armories, theaters, or just somebody's back yard. In 1963, my brother Ronnie and I decided to start a band of our own to compete with the those we had been watching. We both had taken years of piano lessons, all classical. We recruited two friends with no musical background to join us. This story tells how these kids went from that inauspicious beginning to earn a recording contract with Cameo-Parkway Records, a booking contract with Bill Lowery Talent Agency in Atlanta, and an appearance on Dick Clark's national TV show, 'Where the Action Is.' And then this incredible dream came to an end in 1967 when we were drafted into the military. Ron Parr, our talented lead guitar player, died in 1968 when the tank he was driving rolled over a landmine in Vietnam Nam. Ron was 19. $0.99 on Kindle.